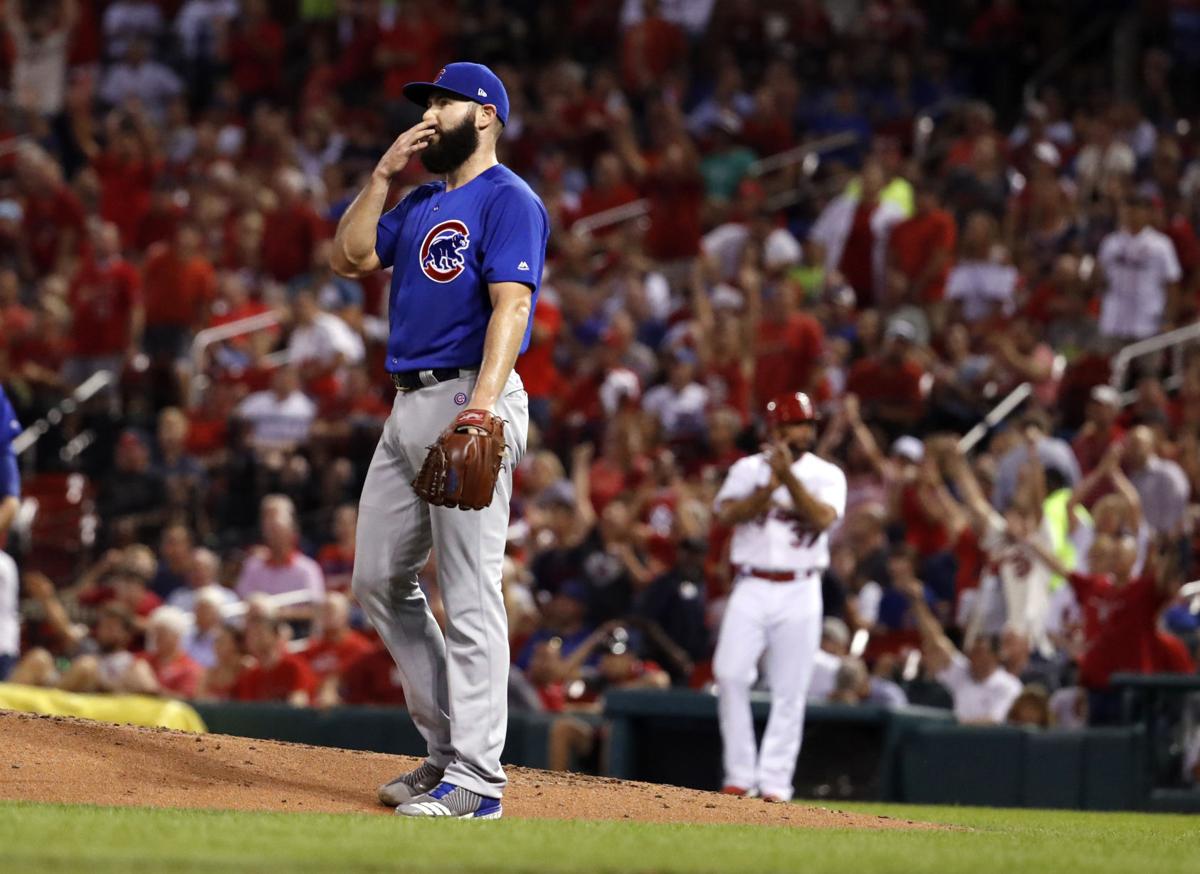 I'm not a huge fan of champagne celebrations after every plateau reached in sports, I'd rather see them save it for the big ones like series wins and of course, the big victory. So, last night's loss to the Cardinals 8-7 was bittersweet. It was a hell of a game with the Cubs' now trademark comebacks even though they came up short on this one, it still feels good knowing that the post season starts next week and the Cubs clinching will go down to the wire.
"Let's just play tomorrow, let's not overreact to anything," Cubs manager Joe Maddon said. "I love the comeback, I love the energy. [Jake Arrieta] just had a tough night."
That's about all you can do. Jason Heyward ad a three run shot and then almost immediately, Ben Zobrist cranked one over the wall to bring the Cubs within a run of tying up the game, but that's about as close as the Cubs would get.
There were a couple of moments that Cubs fans cringed over when Albert Almora crashed into the outfield wall, team staff rushed over but so far so good and there's nothing seriously hurt with the outfielder.
"That's a scary thing," Jason Heyward said. "The wall is undefeated. That's one of the things we always have to worry about. What I love about [Almora] is that he's so fearless when it comes to that. It looked like he tripped into it going after the ball hard."
Yeah, it looked really terrible.
"I tried to cut [the ball] off before it hit the wall and when I went to slide, I noticed I wasn't going to get to it and when I looked up the wall was right on me," Almora said. "There was no slowing down. Luckily, nothing's broken, nothing's damaged. All good."
The other thing that happened was a ball went off of Willson Contreras' knee causing him to hobble around for a moment or two but nothing serious.
The writing on the wall last night occurred when the Cubs failed to capitalize on a couple bases loaded situations.
"These guys are going to make it as tough as possible on us, as we expect. We have to do our best to take care of business tomorrow, and then we'll see what happens." Arrieta said.
So, the Cubs magic number remains at 1. Leave it to the St. Louis Cardinals to frustrate the World Series Champions. This season, the Cubs haven't made it easy on themselves or their fans. A frustrating first half, a comeback second half and an exhausting race to the finish line. What do the Cubs have in line for October?
Believe it.