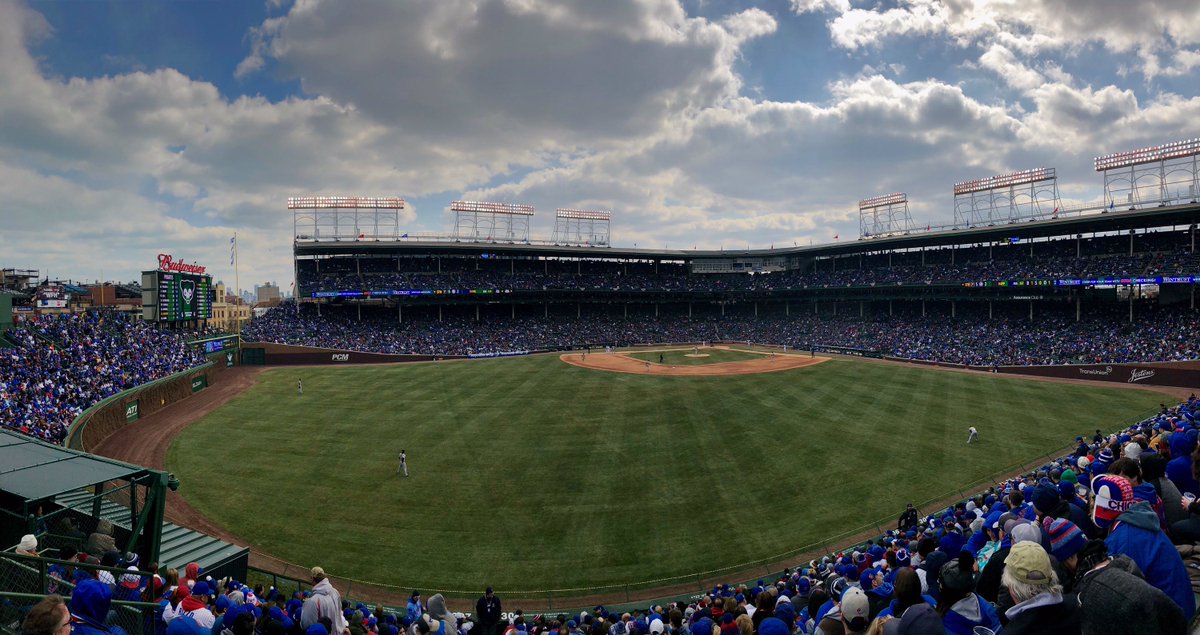 There was a huge difference in the attendance between the White Sox and the Cubs home opener. The noticeably empty seats at the White Sox(ok, ok, it snowed and was cold) compared to the 40 000 + soaking up the sweet cold air at Wrigley Field to cheer on their North Side heroes. The good news is they played a game, the bad news is they lost 8-5 to the Pittsburgh Pirates.
Javier Baez kicked off Opening Day in style with two home runs. Along with Ben Zobrist, the two have quickly become the players to watch this season.
"To be honest, I was trying to hit the ball on the barrel and not get jammed because of the weather," Baez said. "I stayed short to the ball. The second at-bat [in the fifth], I came back to the old at-bats against him. He got me, but I got him back again."
The Cubs are playing .500 ball so far and that won't sit too well in most fans books, I mean you can make all the excuses in the world but excuses won't change the score. The Cubs have missed opportunities and yeah, Anthony Rizzo is injured for a bit but there's plenty more baseball to come. I'm just happy Opening Day arrived and baseball is officially back at Wrigley Field.
"I felt I had really good stuff today and they were able to foul it off rather than get weak contact outs or something, so they did a good job of that," Tyler Chatwood said. "They're hot right now. It seemed like whenever they put the ball in play, good things happened for them. You've got to be able to get out of that."
He's right about that. Pittsburgh is playing extremely well and could give the Cubs a run for the National League Central title.
"We didn't play badly," Joe Maddon said. "They hit the ball well today. They're swinging the bats really well right now this early in the season, so you have to give them credit."
So, I think it'll take some juggling the lineup, warm weather and a healthy lineup to change the Cubs' course. .500 ball isn't bad, but then again in a season where the Blue Jays are 8-2, the Cubs record isn't all that great.  Last season, the team kicked it up a notch in the second half, but we know that they ran out of gas in the playoffs. Maybe it's just the optimist in me but I think the Cubs will be just fine. Once they get their swing, it'll be lights out. Nobody said they were going to win over 100 games this season.
Baseball's back!
Believe it!