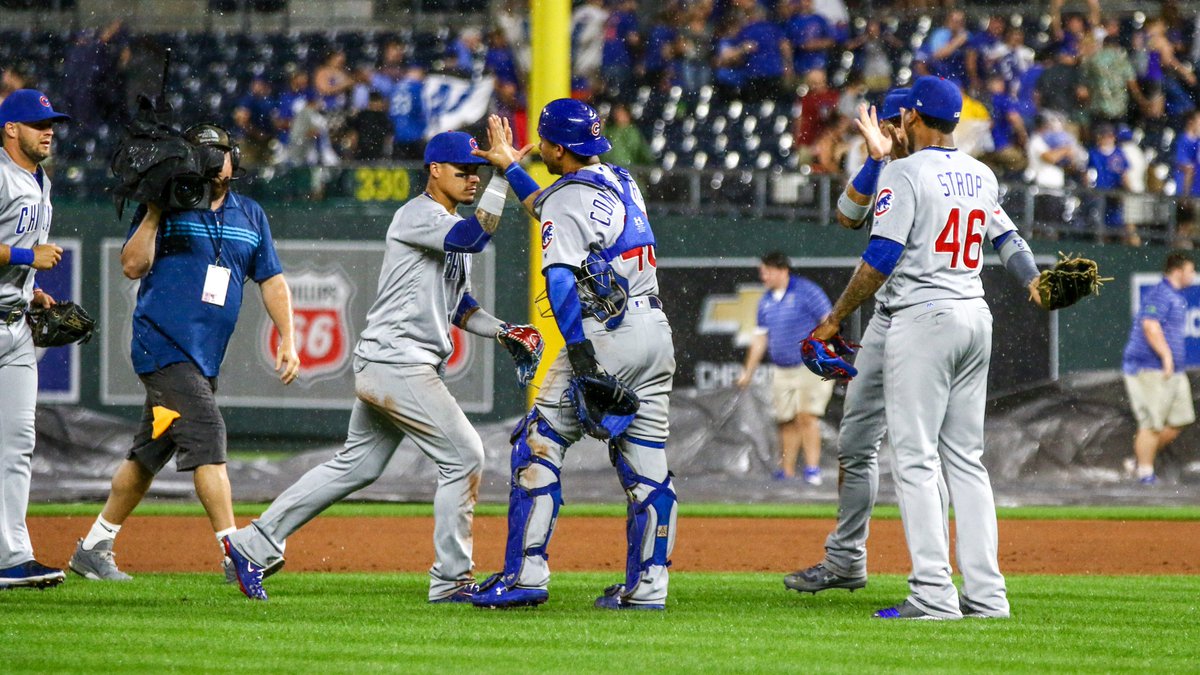 Though try as they might, the rain delay couldn't stop El Mago from creating, well you guessed it, a little magic in Kansas City as the Cubs went on to defeat the Royals 3-1.
"I was so mad [at my at-bats] plus the rain delay — you can ask 'Stroppy' about my attitude," Javier Baez said. "I struck out twice, and not that I struck out, but it was pitches way out of the zone. This is the first time I played here so I was really excited to be here. I like the field — it's really big. I was trying to control my emotions. After the rain delay, I went out there with a different attitude and being patient."
I think that's the difference between an MVP season and not an MVP season, is patience.
"[I told him] 'You've got two more at-bats,'" Pedro Strop said. "'We're playing this game, and you've got two more at-bats. I want you to go 2-for-4. Don't tell me anything, you're going 2-for-4.' I was kind of screaming at him. 'Wake up, man. Wake up. We've got a game to play and you're the man. You're going to get two base hits. Watch. Let them pitch. Let the ball get close to you and hit it.' That's pretty much what it was."
It's not a secret amongst Cubs fans that Baez's play has garnered him some MVP talk but when the new guys come onto the team at this point in the season and they're awestruck with his playing ability, then perhaps the MVP discussion turns real.
"Javy's play was outstanding," Cole Hamels said. "I've been fortunate enough to play with a Hall of Famer behind me in Texas [third baseman Adrian Beltre] and what Javy's able to do, he's riding the line with that type of playing ability. It's great to be able to have that."
The Cubs rotation has been a see saw type of season, but with the addition of Hamels, who has dreamt of being a Cub, things have brightened, not that I'm terrified of the Cubs' chances in October, I don't know, they haven't been lights out this season and could be the factor in the playoffs should the team not succeed.
"Moving it forward, I think our guys are really good and I want to believe we'll find that magic potion at some point," he said. "Other than we haven't performed as well as we can, I still believe there's a solid chance we will. … It's about everybody, it's about scoring points, not making fundamental mistakes. It's a group situation and we are a team. As a group, we all have to do our jobs."
Believe it